Greta Thunberg, a teenage activist, started her cause of waking up people in authority to do something about the threatening climate change. She expressed an aggressive shout out to those who she deemed, "Thieves of her youth". For her, since it seems the grave danger concerning global warming, is ignored, how come no politician has initiated any effort on it? And while she is just a teenager, all that she could do is to voice out this frustration by speaking in climate change conferences, ride the boat instead of flying to get into places, and to encourage others to walk with her on a strike called, 'School Strike For The Climate.'
The main idea in her talks is a message that all of us seem to know how the earth is dying but we choose not to help, that we can partake in our little ways. Examples of how we can do so are the following:
individually, by reducing our rubbish

as a family, by developing good habits in reducing, recycling, and reusing

as an organization, through clean-ups, by creating a movement, or taking part in educating people about it

as an industry, using the platforms they are in to create more awareness

As was aforementioned, collective effort from all kinds of industries and organisations are needed. Amongst one of these industries is the sports industry. Sports brands and even sports venues such as the Melbourne Stadium are expected to play a part in sustainability.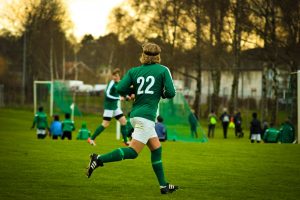 Recently, efforts were felt as brands embraced sustainability in selling their products. Also, they become aggressive in climate change campaigns through the slogan that comes with their advertisements. Some of those worth mentioning are:
When NIKE took over Adidas reign over the NBA jerseys, they have released what their jerseys will be made up of in 2017. The NBA jerseys will be made up of a blend of fabric that will include polyester made up of recycled plastic water bottles. Each uniform, meaning the jersey and the shorts, will approximately need 20 discarded bottles. To make a new yarn, these bottles are reclaimed then melted down.


Fèdèration Internationale de Volleyball (FIVB), the official international governing body for all forms of volleyball, aims to participate in saving our oceans by working closely with Dutch NGO Ghost Fishing in removing discarded nets. The head of FIVB's marketing, Anna Sarafianou, called it the Good Net Project, which aims to create volleyball nets out of this supposed rubbish that always ends up left in the ocean.
Football club Real Betis becomes the first La Liga club to show initiatives in leading sports teams and sports administrations, brands, and unions in going green as it signed up for the UN Climate Neutral Now initiative. It gets recognized as the first Green Team in the world, not because of its uniform but because of the cause, it considers to work with their brand. Real Betis commits to sustainable practices to relieve the earth from global warming by reducing its carbon emission. In building their training

grounds which also hosts stadium events, it will count on solar panels for energy production. All 50,000 sq. meter academy is fully designed to be fully climate neutral. From its waste management, usage of electricity and water, and finally, efficiently utilizing remaining space to plant a small forest will be focused on preserving the environment. The club, in general, will be fully implementing smart illuminating systems along with usage of sustainable water bottles instead of drinking from single-use plastic ones in their Benito Villamarin Stadium.

All of these efforts will count. And as the sports industry realizes how big of a platform they have, where it serves as the ultimate waterhole where people come together and talk, interact, support their teams passionately, laugh, and cry. It's just a great idea that this community be used to propagate awareness regarding environmental issues. If people could see their sports idols practising earth care, more or less, they will do the same.