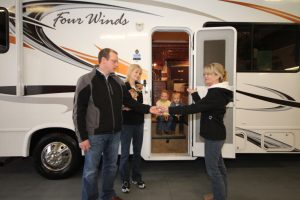 When you price a new RV be sitting down. Unless you are very rich or kin to the president, you can't afford to buy one. A more sensible choice would be to rent a RV if you are only planning a trip across the country. But if you plan on living it, well that would be a high priced small cottage. Maybe that why they are called RV (recreational vehicle).
You will find that you will have all the comforts of home and then some when you rent a motorhome for your trip whether it is a long or short journey. If you are driving you will experience the difference in the driver's seat. It will feel as if you are sitting in your recliner at home. The seats are more comfortable than seats in an automobile. They are designed more like the big trucks with air cushion seats to support your body while you are driving down the road. You will not have to worry about a stiff back.
Renting a RV is as easy to rent a car. There are dealers in almost every area that rent these vehicles for your pleasure. You can choose from many different models and rent the best one that is suitable for you and your family. Be sure you reserve your RV in advance because these vehicles usually get reserved months in advance and you want to make sure that you get the one that you want.
There will be a flat fee per day for just renting the vehicle than a fee for mileage. This means that you will be charged a certain amount per mile driven while you are renting it. In usually this is like 15 to 35 cents a mile. This is added to your bill at the end of the contract. I don't think you'll find a place that eliminates this charge and only charges for the rental, but if you do then you are looking at a great deal and you should not pass that one up.
When you return the RV, it is expected to see if any damage has been done to the vehicle. It must be in the same shape it was when you rented it. This brings up a good point. When you rent the RV, be sure you walk around it with the rental employee and check for scrapes or dents. Make sure everything is logged on your copy of the contract. Also, you need the insurance they offer. It will cover any accidents you may have. If you don't have the insurance you will have to pay for any new scrapes or dents.
If you are traveling, renting an RV is the way to go. You will be comfortable and you will not have to worry about the wear and tear on your own personal vehicle. Most important renting is much cheaper than buying in this case.